The Return of Scarlet Macaws to Guanacaste, Costa Rica
If you've visited Playa Avellanas or Hacienda Pinilla recently, you may have heard a distinguished "SKWAK!" coming from the skies above. In October 2019, the Macaw Project | Blue Zones released ten young scarlet macaws in the tropical dry forest around Pinilla and Avellanas as their latest geographical target. These birds are actually the offspring of several rescued macaws from other habited zones of central and southern Costa Rica. The group's mission is to repopulate the coastal forests of Costa Rica's Nicoya Peninsula with this majestic bird. 
Yes, Scarlet Macaws in Costa Rica are still abundant, but what happened to the scarlet macaws that once flew in Guanacaste? The scarlet macaw is one of the world's favorite tropical birds for its crimson, blue, and yellow plumage which make them attractive for tourists, birdwatchers and… poachers.
Poaching in the 1960's led to the birds' demise throughout Costa Rica as they became status symbols in wealthy European homes.  Chasing profit, poachers pilfered nests for macaw eggs and chicks until there were none left. Deforestation was another detrimental factor during the same time period as vast parcels of jungle and forest were cleared for sugar cane, rice, corn plantations, and livestock. 
Tamarindo Real Estate spoke with Ismael Caranza, the tropical biologist who has been involved with the Nicoya re-population project since its initiation.  
According to Ismael, "Our organization is leading a project for the reintroduction of the scarlet macaw in the northern part of the Nicoya Peninsula. These birds once existed and flew freely many years ago in this region, but became locally extinct due to deforestation, agriculture, livestock, loss of habitat and the hunting for illegal sale. 
The project regains possession of confiscated macaws that were being used as illegal pets in Costa Rica. Since these confiscated macaws are inept to be released into the natural environment, they are used as reproducers at our site in Pinilla, just 5km from Playa Avellanas. The chicks that are born go through special training so that they can be released around three years later. The macaws are released with identification bands on their talons and are injected with microchips for identification. 
Currently we have only released a group of 10 individuals in October 2019 and we are preparing to release another group this year, 2022. Sightings are common in the zone of Playa Avellanas but have also been reported in Playa Tamarindo to the north. The main objective is that the released birds can reproduce in the wild so that new generations can see these wonderful birds forever. The goal is to release some 300 macaws in 25 to 30 years. We cannot achieve this alone, we need the help of the community to take care of them, plant trees, and host nests. Our organization works in environmental education programs for the local communities near the project and we'd love to host an event in Tamarindo."
Aside from Scarlet Macaws in Costa Rica that grace our coastline, what other Guanacaste wildlife can you expect to encounter along our coastline?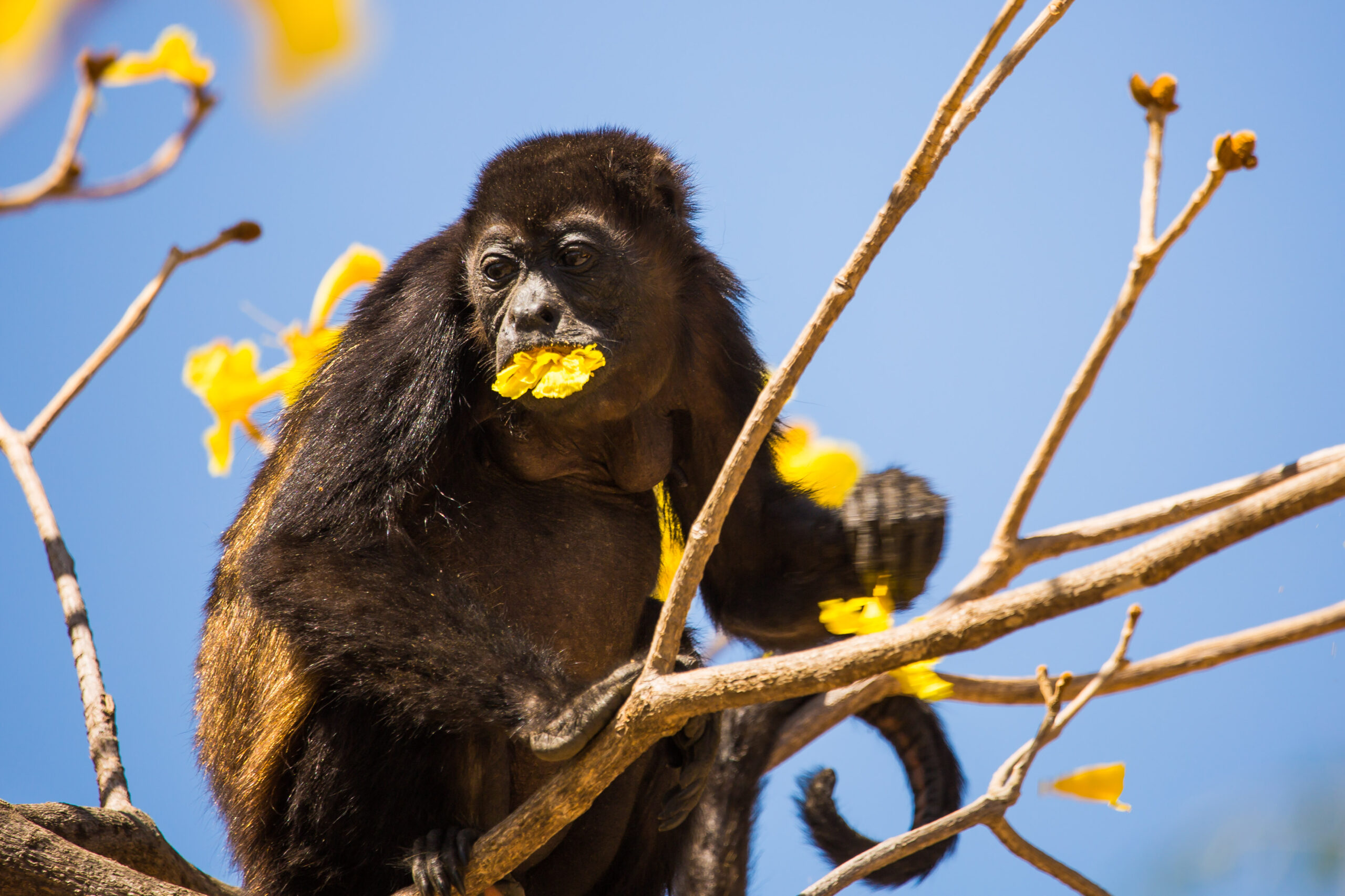 Howler Monkeys – Named for their throaty howls which can be heard for up to 3 miles, these tree dwelling mammals are fascinating for wildlife seekers, but bad news for those that like to sleep in. In Guancaste, howler monkeys can be seen in just about any region are are quite tame which allow relatively close interactions. Their bodies can grow up to about 3 feet in length and their tails can also grow 3 feet in length.
Coyotes – Inhabiting the tropical dry forests of Guanacaste, Coyotes are frequently seen prowling the preserved forest within the 4600 acre development of Hacienda Pinilla. Coyotes are omnivores and will eat just about anything, sometimes traveling up to 50 kilometers a day in search of food. There are many stray dogs in Costa Rica and Coyotes are easily mistakable as skinny, medium sized dogs.
White Tailed Deer – rarely traveling outside of a one-square-mile area during their lifetime, there are several fleets of white tailed deer that can be spotted in Guanacaste. White-tail deer enjoy the mountains, tropical forest, the swamp-lands, and areas that offer shelter and protection with a diet consisting of shoots, mushrooms, berries, leaves, grasses. The white tailed dear can also be found on the ₡1,000 colones (local currency) bill in Costa Rica.
Iguanas – The largest lizard species in Central America, the adult green iguana (Iguana iguana) can reach six feet in length and weigh up to twelve pounds. The species is known for its long, whip-like tail that accounts for more than half its total length. Iguanas are extremely common in Guanacaste and you're likely to see one or more while enjoying your sunset on the beach in cocktail in Tamarindo
Jaguar –  The Jaguar is Costa Rica's only "big cat." It can grow to over two meters in length and weigh up to 250 pounds. They are a very threatened species due to habitat loss and illegal hunting. The Jaguar is primarily found in reserves and national parks where they are more protected. The female's territory ranges from 2,500-9,000 acres and males can have up to 95,000 acres. Chances of seeing a male jaguar are slim. In Costa Rica, common prey includes green iguanas, sloths, peccaries, sea turtles, tapirs, agoutis, deer, boa constrictors, and monkeys. This "pouncing killer" gets its name by just that: stalking its prey then pouncing on the unfortunate meal and breaking its neck. You can keep your eyes peeled, but you probably would never know if one was close.
Motmot -Common birds are not necessarily common looking. A stunning family of birds — one or more of the six motmot types — are readily found in and along the edges of forests throughout Costa Rica. The most recognizable feature of motmots are their "racket" tails, resembling a badminton or tennis racket.
Olive Ridley Sea Turtle – Costa Rica's magical "arribada" of Olive Ridley turtles are recognized as one of the world's true wonders of nature. Arribadas are synchronized turtle nesting events on a mass scale, whereby tens of thousands of turtles converge on very specific beaches to lay millions of eggs, simultaneously. For threatened Olive Ridley Turtles, the favored beaches are along Costa Rica's Pacific coastline and, more famously, Playa Ostional which is about 2 hours south of Tamarindo. This phenomena  can be seen along the Pacific Coast between July and February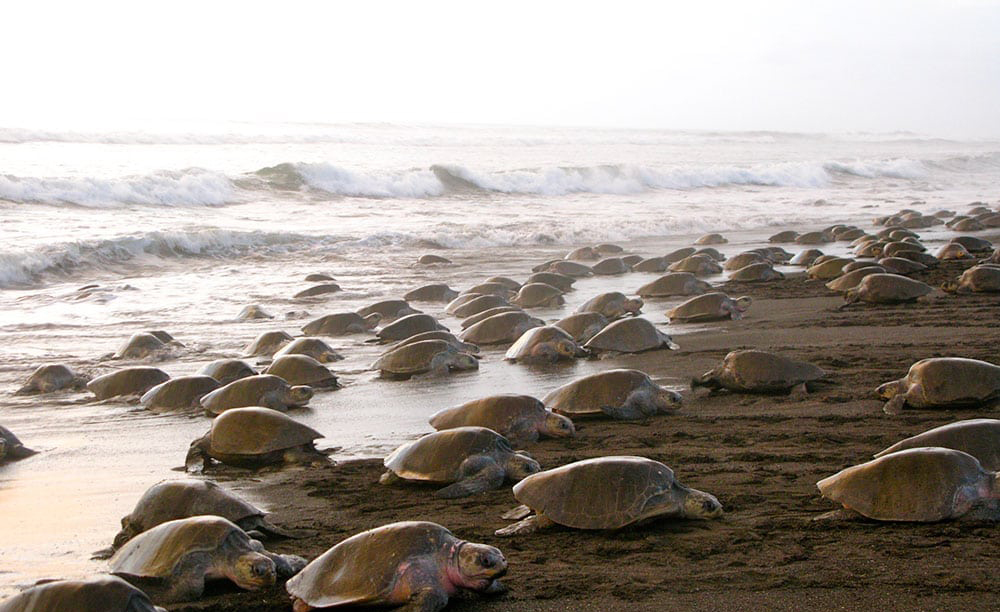 As Costa Rica leads the way in environmental sustainability and eco-tourism, the re-introduction of the scarlet macaw will add even more charm to the Guanacaste wildlife along this magnificent coastline.