A Day in the Life: Playa Avellanas
Playa Avellanas is a beautiful beach located in the Guanacaste province of Costa Rica and only 30 minutes away (19 Km or 12 miles) from downtown Tamarindo. We recommend using Waze or Google Maps and search for "Lola's Restaurant Avellanas". 
It's known for breathtaking sunsets, shady almond trees, great beachside restaurants like Lola's, and multiple surf breaks along the 1 km stretch of white sand for all levels. 
Morning activities
If you're a surfer, you must experience the perfectly peeling waves in Playa Avellanas. There are 5 unique surf spots along the coast ranging from a left-hand reef break, to playful sandy-bottom beach breaks, to a split-peak left & right river mouth wave, and finally a powerful right hand reef break known as Little Hawaii to the north. A morning dip in the warm crystalline waters of Playa Avellanas will replenish your soul and prime you for the day ahead.  
If surfing is not your cup of tea, start your day with a sunrise stroll on the beach with the  early morning breeze. If you're planning a full day beach marathon, grab a nice table at Lola's Restaurant which has a very convenient parking lot and enjoy a toes-in-the-sand experiance! We recommend a "Typical Tico" for breakfast, a gallo pinto portion (rice and beans with spices and the traditional Salsa Inglesa Lizano) served with eggs, tortilla, avocado, sour cream and salsa. Ask for the fruit of the season for a perfect morning smoothie.
Learn about the mangrove in Avellanas
First time in Avellanas? Most people will park in the parking lot next to Lola's restaurant, but there is also another shaded parking area in the "Cabinas Las Olas" hotel. If you park here, you will walk along the famous mangrove bridge that leads to the beach that's become somewhat of a famous Instagram spot… The estuary in Avellanas is a protected mangrove that is home to a variety of wildlife including monkeys, crocodiles and tropical birds. 
In fact, there is a "Mangrove Reforestation Project" lead by Sebastián Leon Hines and Mayan Koren, with support of Connect Ocean and Cabinas Las Olas. This initiative started after the earthquake in 2012, when the coastal land rose one meter which changed the sandbars and closed the river mouth. The water stuck in the mangrove became stagnant and toxic for the mangrove. 
The Mangrove Reforestation Project is very important since mangroves are nurseries to an incredible amount of diverse species, including around 75% of commercially traded fish. Also, mangroves possess a large intake of carbon dioxide (compared to the forest trees), which reduces the impact of climate change. They also provide important resources to people for example: wood, charcoal, medicines, fibers, dyes and salt. Additionally, they protect the shoreline from natural disasters and counteract erosion, which prevents sand from reaching nearby coral reefs.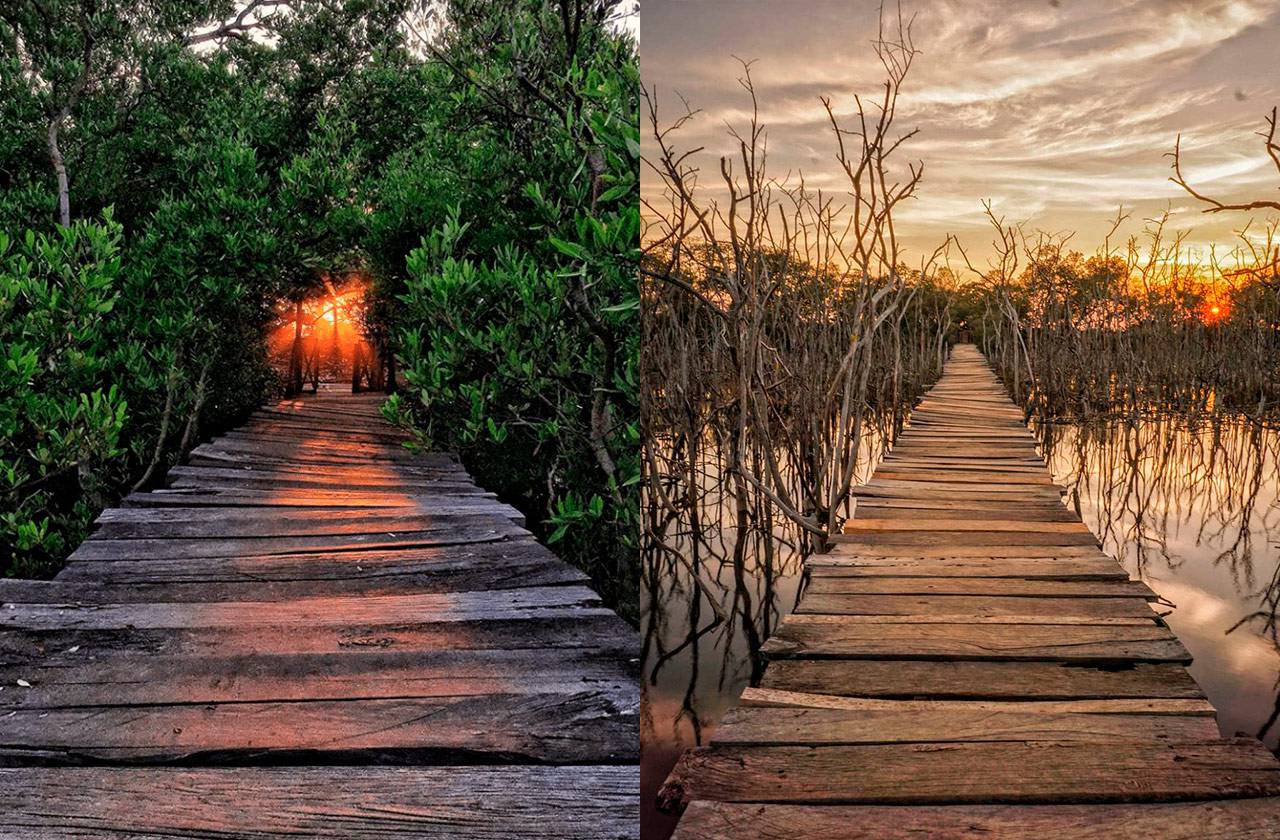 Afternoon activities 
If your arms don't feel like spaghetti from the morning session, why not paddle out for another surf!? With several waves along the beach, you can surf at any tide. The rivermouth is surfable through low tide, the beach breaks function best at mid tide, and the reef breaks like a full high tide. Or maybe your belly will be so full of fresh ceviche and Imperial that you'll just spend the afternoon relaxing on the beach, enjoying a good book and trying another round of Lola's favorite dishes like pizza "con todo" (with everything), dutch fries or fish tacos. 
If you are staying in the resort community, Hacienda Pinilla, you can access Avellanas, Lola's, and all the surf spots from the Hacienda Pinilla Beach Club. Just park in the main lot here, and start walking south. In about 15 minutes you'll land at Lola's restaurant. Just make sure you check the tides as you'll need to cross an estuary which can be tricky around high tide. 
Local's Tip: The Hacienda Pinilla beach club is the northernmost part of Playa Avellanas and has direct access to the right-hand reef break known as Little Hawaii a unique surf spot which breaks at all tides and can handle waves up to double overhead and still maintain its shape. And as we mentioned before, this area is recommended for advanced surfers, since the wave breaks over a lava reef.
As the sun sets, more visitors arrive at the beach, for cooler temps and brush stroke colors in the sky.  Enjoy the moment when the sky goes from  yellow to orange to red to purple and the light is reflected in the tide pools along the beach. These moments are precious and a main reason people who visit the Gold Coast come back time and time again… or just never leave!
Investment opportunities in Avellanas
Avellanas Real Estate has been growing since its proximity to the exclusive gated community Hacienda Pinilla and a variety of services in the area, which include restaurants, boutique hotels and surf camps. 
In Tamarindo Real Estate, we have several properties for you, from very attractive prices (specially for a long term investment), to large parcels and estates in Hacienda Pinilla. 
Residential Land Investment – Asking Price $53,000 and $68,000
Formally known as the View Club in Playa Avellanas, these residential lots are just 5 minutes driving to Lola's Restaurant. In 2007, a developer carved out 24 residential lots that were planned for a small community with an easy commute to the beach. The collapse of 2008 put the break on this developer's dream project. There have been no advancement in utilities or amenities but the free-and-clear title lots remain. 
The two lots are located along the public road that connects San José de Pinilla to Playa Negra. Havind road frontage allows for a 65% building footprint and grants commercial use. 
3000m2 Ocean and Mountain View Homesite  just 15 minutes from Avellanas. 
This 3004m2 building site is located in the peaceful community, San Antonio Estates. The community is recently developed and lots are selling out. Of the 3000m2+ you can build on 50% of the land allowing for a large complex or several rental units. The homesite is very accessible and has an already-terraced building pad. Enjoy ocean, mountain, and valley views from this property with a view span from Playa Grande to Playa Avellanas.
50 Acre Ocean View Farm – Asking Price $899,000
Finca El Cielo (The Sky Farm) is located between the villages of San José de Pinilla and Paraíso, it encompasses 20 hectares of rolling hills and a variety of tropical specimens and animals. The property rises to a commanding two acre building pad on one of the highest peaks in the area. 
This irreplaceable asset is suited for a luxury estate or a low-density sustainable development with walking and nature trails. 
Landmark Golf Front Estate in Hacienda Pinilla – Asking Price $2,888,000
Casa Sol y Olas (House of Sun and Waves) is a brand NEW turn-key, authoritative 6 bedroom residence in the gated community of Hacienda Pinilla. It's a true novelty in terms of amplitude, location and top-caliber finishes. Located golf-front on a massive 3,542 m2 homesite in Reserva de Golf.
Within the luxury community of Hacienda Pinilla, you´ll find multiple amenities such as an 18-hole golf course, surf, an exclusive beach club & restaurant, 40 Km of mountain bike trails, an equestrian center, tennis and pickleball courts and endless hiking and beachcombing opportunities. Also, owners can access the luxurious JW Marriott hotel with 5 unique restaurants and the largest pool in Central America.
Contact us today at [email protected] for more information about Avellanas Real Estate. 
Did you enjoy reading this article? Leave us a comment with the topics that interest you the most.